Alta Pusteria: beautiful cross-country region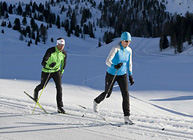 Dobbiaco is renowned as an international world cup competition venue . It features 120 km of perfectly groomed cross-country tracks. Alta Pusteria with the villages of Sesto, San Candido, Dobbiaco, Villabassa and Braies features connected cross-country tracks of 200 km in total. It is part of the world-biggest cross-country association Dolomiti Nordicski (1,300 km of cross-country tracks in the Dolomites, snow guaranteed from 23rd of December and unified fee for the cross-country tracks). Whether you are training for a ski marathon, testing your limits on the FIS-homologised slopes, or prefer to do your rounds on floodlit tracks at night time (from 23rd of December daily from 6 p.m. - 8 p.m.) - here you will definitely find the right cross-country track for your requirements. The cross-country stadium in Dobbiaco is the ideal setting for beginners, but also an ideal starting point for various cross-country routes.
The cross-country fee guarantees snow in Alta Pusteria
Snow guaranteed on the main cross-country track from the sports zone in Sesto into the Fiscalina Valley, then back to Sesto and on to San Candido, from there in the direction of Dobbiaco, through the cross-country stadium, and around Dobbiaco Lake, on to Villabassa and into the Braies Valley. The cross-country track to Cortina and the track on the alpine 2,000 m high Prato Piazza are also included.
Nordic Arena Dobbiaco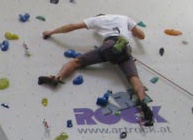 Since January 2010 Dobbiaco is in the proud possession of the new cross-country-ski-stadion, the Nordic Arena. The Nordic Arena of Dobbiaco implies following facilities: public showers & changing rooms, restaurant and bar, shop & outlet, meeting room, broadcasting facilities, tower of climbing & bike rental outlet, course of roller skating, adventure par, 2 outdoor tennis courts with flood light, cross-country-ski-school Azzurra with renting agency, FIS slopes
www.nordicarena-toblach.it
Alpine Skiing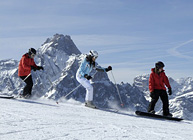 In the heart of the Dolomites-"UNESCO World Natural Heritage" you can find the ski resorts of Alta Pusteria in the 5 villages of Sesto, San Candido, Dobbiaco, Villabassa and Braies. The biggest ski resort "Monte Elmo", can easily be reached by cable car from Versciaco or with the panoramic cable cars from Sesto. This ski resort offers 21 km of perfectly groomed slopes, and also snowboard freaks can find everything they long for.
Acquafun San Candido - one of South Tyrol's very special swimming pools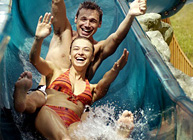 Acquafun San Candido is no ordinary swimming pool in South Tyrol, but a unique alpine world of adventure for the whole family. Lying beside a cheerfully bubbling mountain brook, listening to the twittering of birds and admiring South Tyrol's mountain scenery, here you will feel closer than ever to nature. There's a children's pool, water fountains, a slide, aqua massage, a delightful meadow to lie upon during the warm summer months and much more - as much variety as our wonderful natural landscape. In our adventure pool you can experience a refreshing change and recuperate from the stresses of everyday life.
Families world Alta Pusteria - Fun for everbody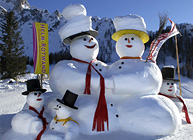 Holidays in Alta Pusteria are interesting for children and there parents, because we offer a varied program and a lot of ideas to spend your free time in Alta Pusteria. The ski resorts in Alta Pusteria are small and straightforward and invite not only for skiing but also for playing, coasting and having a good time on the snow.
Fun for Kids
The ski-resort Rienza on wintertime is goning to be a great childrens paradise. Every Thursday the kids are leaving for hunting the treasure in the snow. To find the right way, they have to work together. Don't miss the action! All togehter we go on a racy trip on the snowmobile to the starting point.
Nursery ski school
Learning how to ski is very easy! Our youngest skiers can play in the nursery ski school, on the expedition of the dwarfs and try to go on the two boards. The ski school Dobbiaco offers an all-day supervision for children from 3 years.
More information and notification:
Tourist Info Dobbiaco - phone: +39 0474 972 132
Ski school Dobbiaco - phone: +39 0474 972 581
Alpine Guide
Luis Strobl
Tel. +39 0474 979065 - Mobil: +39 335 5394900 - www.bergfuehrertoblach.com

Kurt Stauder
Tel. +39 0474 972488 - Mobil: +39 347 0717406 - www.mountainmind.eu

Globo Alpin
Tel. +39 0474 976139 - www.globoalpin.com
The museumobil Card
The museumobil Card combines 2 offerings: the use of all means of public transport on 3 or 7 consecutive days and admission to 78 museums in South Tyrol.


Interessante Links