Dobbiaco Natural Bathing Lake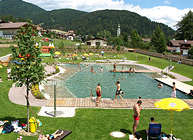 You can relax and swim amidst green fields with a unique view of the mountains of the Val di Landro Valley at the natural bathing lake in Dobbiaco. Enjoy the wet with your children or simply read a book in the relaxing natural setting with a unique view of the mountain world, or regain strength after a demanding hiking tour in the Dolomites-"UNESCO World Natural Heritage". The bathing lake is divided into an area for swimmers and an area for non-swimmers. The swimmers' area is 37 metres long and 16 metres wide with a maximum depth of 2 metres. The non-swimmers' area is designed as a children's pool with a depth of 0.60 metres to 1.35 metres.Infos: Tel. +39 0474 972529
Acquafun San Candido - one of South Tyrol's very special swimming pools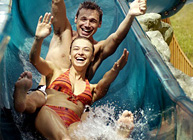 Acquafun San Candido is no ordinary swimming pool in South Tyrol, but a unique alpine world of adventure for the whole family. Lying beside a cheerfully bubbling mountain brook, listening to the twittering of birds and admiring South Tyrol's mountain scenery, here you will feel closer than ever to nature. There's a children's pool, water fountains, a slide, aqua massage, a delightful meadow to lie upon during the warm summer months and much more - as much variety as our wonderful natural landscape. In our adventure pool you can experience a refreshing change and recuperate from the stresses of everyday life.
Sensational cycling tours in the Dolomites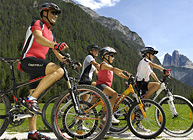 Sensational cycling tours around the most renowned peaks of the Dolomites await you in the land of the Three Peaks. Stop by in one of the traditional huts and experience an unforgettable alpine landscape. Here you'll find tours of all levels of difficulty, and also cycling paths suitable for families with children. BICYCLES with children`s seats 8up to 2 years) are available free of charge your excursions.
Nordic Arena Dobbiaco
Since January 2010 Dobbiaco is in the proud possession of the new cross-country-ski-stadion, the Nordic Arena.The Nordic Arena of Dobbiaco implies following facilities:public showers & changing rooms, restaurant and bar, shop & outlet, meeting room, broadcasting facilities, tower of climbing & bike rental outlet, course of roller skating, adventure park, 2 outdoor tennis courts with flood light
www.nordicarena-toblach.it
Family holidays in Dobbiaco
Dobbiaco has lots to offer for children:The children's playground in the "Grieswaldele" forest withswings, slides, sand castles,... ... the Nature Park House with a Forest Wonder World, Celtic tree horoscope, and a tree village. ... and of course "Action for Kids" in the Dobbiaco Nature Park House: in July and August weekly theme afternoons are organised for children from 6 to 12 years of age. The programme can be obtained in the Nature Park House or in the event calendar of the Dobbiaco Tourism Association
The Dolomites
In Dobbiaco you can choose between a comfortable valley hike, fascinating alpine paths and round tours of the renowned peaks of the Sesto Dolomites. The majestic peaks and the numerous valleys in the Dolomites are ideal for alpine hikes and comfortable walks. Make a rather comfortable walk or a demanding tour: on your excursion you can discover the splendid landscape and stop in on one of the traditional huts along the path. www.s-dolomiten.com
Alpine Guide
Luis Strobl
Tel. +39 0474 979065 - Mobil 0039 335 5394900 - www.bergfuehrertoblach.com

Kurt Stauder
Tel. +39 0474 972488 - Mobil 0039 347 0717406 - www.mountainmind.eu

Globo Alpin
Tel. +39 0474 976139 - www.globoalpin.com
The museumobil Card
The museumobil Card combines 2 offerings: the use of all means of public transport on 3 or 7 consecutive days and admission to 78 museums in South Tyrol.
Highlights Summer